Our JTM community of employees and colleagues recognize a need for and fuel our long-term commitments to Diversity, Equity and Inclusion. We acknowledge the power we have over our internal culture and our industry as a whole. Our initiatives began with putting our agency under a microscope – to see clearly our inequities and our opportunities to be better. We have a lot of work to do.
We started by sharing our diversity data as part of the 600 & Rising and Brand Lab's call to action.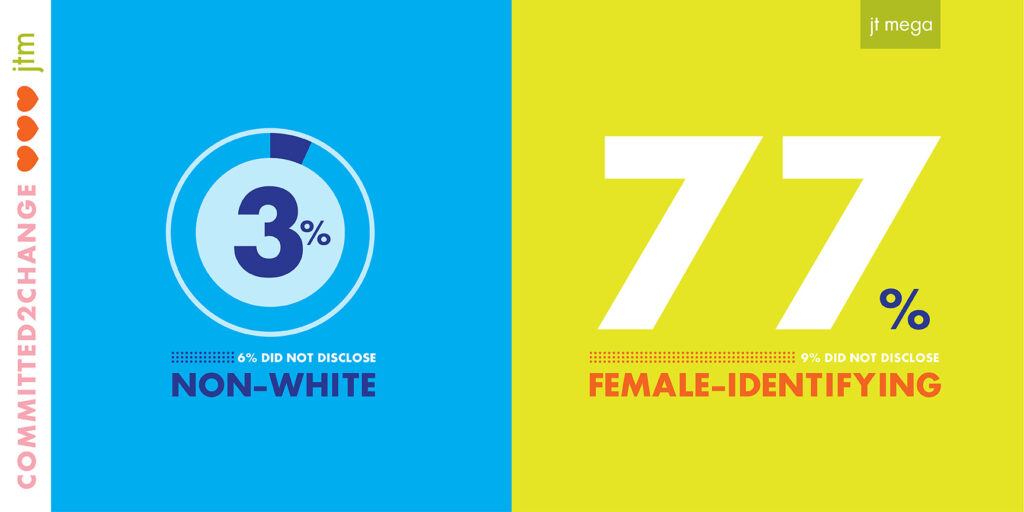 We formed 9 sub-committees from agency volunteers. Each member conducts research and connects with their colleagues toward a shared vision.
JT Mega strives to be a diverse, equitable, and inclusive company that represents and reflects the broader world in which we live. We want to hold ourselves accountable today, in 1 year and in 10 years. Our mission is two-fold. 1) Ensure we are mindful in the now, of equity and intentional inclusion in all aspects of our business and 2) dedicate additional energies and resources toward racial diversity, at our agency and in the advertising industry as a whole.
We set to work in our individual committees.
We evaluated our core values and evolved them accordingly.

We'll be sharing these shortly.
We looked at how we can make our agency more accessible and reviewed every line of our employee handbook.
We established a partnership with The Brand Lab to foster an industry that is fair to and welcomes BIPOC employees.
Our recruiting and hiring processes were revised in order to broaden our talent pools and better welcome all applicants.
Our previously-established Volunteer Committee aligned to support BIPOC communities in need. In October 2020 we held our annual JTM Farmers Market benefiting the Northside Achievement Zone, and in December 2020 we were Santas to Seniors for Home Instead Senior Care.

We began a Conscious Conversations series to facilitate internal discussions

, share knowledge and to keep learning.

We're looking for opportunities to work with new BIPOC Industry Partners

We established a Long Term Commitment Task Force responsible for making this a priority, now and into the future.
The hardest part is to keep going. It's easy to get caught up in everyday work and deadlines. We have much work to do. Sharing this with you is one of the ways we hope to increase transparency and hold ourselves accountable.